HORACIO

Edicion Especial

---
Since 2012, Horacio cigars creates modules for exceptional limited editions: Edicion especial.
The leaves are sorely chosen among the rarest tobaccos and aged during five years in a cellar for an optimal fermentation.  The cigars develop unique aromas and are specially manufactured for the limited editions. A journey amongst the exquisite flavours…
Horacio Edicion especial are sold in boxes of twelve or fifteen cigars. The double ring is the signature of these invaluable modules.
---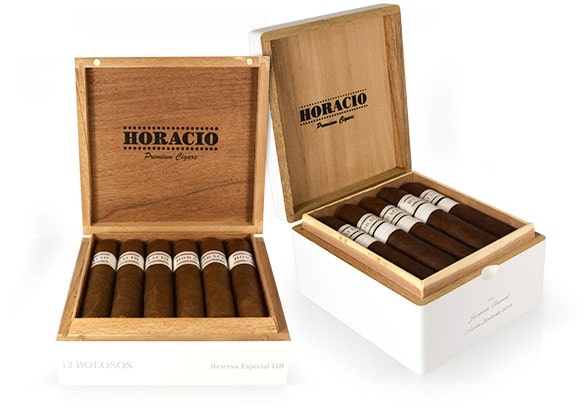 Horacio 10 Aniversario This Horacio "Anniversary Edition" was specially created for the 10 years of the prestigious Horacio brand. The cigars are dressed in a dark and glossy Habanos 2000 wrapper, perfectly stretched. Its delicate touch rhymes perfectly with the exceptional quality of its rolling.

Dense, the tobacco is selected for its aromas, its structure and its flexibility allowing to exalt the best of the aromas while in balance. Raw, scents of leather, undergrowth, slightly accompanied by a smell of humus are supported by more roasted notes, returning us to subtle aromas of freshly brewed coffee.

The first puffs invade the palate with subtle and airy notes. The sensory touches of leather are complemented by some woody notes with touches of honey at the end of the mouth. From the 2nd third, the roundness intensifies, the honey unctuousness develops and combines with the liquorice to compose a greedy and balanced final. A tasty cigar, perfectly balanced and with subtle and complex aromas. Limited edition. Each box is numbered and contains 12 cigars.